The Rogue Wave Convergence™ is coming.
Will you be ready?
RECONVERGE:G2 2018
April 24-26, 2018
Fluno Center, UW Madison Campus
REGISTER NOW FOR NEXT YEAR
"I came into RECONVERGE:G2 thinking I was pretty smart. By the time I left, I realized how much more I had to learn."
– Director at GE
Whether you've got the courage to confront it, or not, your business is being disrupted… right now, on your watch. If you want to be among the select few who are growing to anticipate and embrace digital disruption, we designed RECONVERGE:G2 2018 especially for you.
What is the Rogue Wave Convergence™?
Individually, "disruptive" technologies may or may not have a direct impact on your organization or your career. But when they combine…that's when disruption becomes transformation. The Rogue Wave Convergence™ refers to the unpredictable combination and impact of technologies such as Artificial Intelligence, Augmented Reality, Virtual Reality, Internet of Things, Blockchain, Cryptocurrencies, and CRISPR bio-engineering.
At sea, a "rogue wave" occurs when smaller ocean waves unpredictably combine into one giant wave – toppling even the largest ocean-going vessels and drilling platforms. Rogue Waves are just as terrifying for your business in the face of digital disruption. Each of these technologies is its own small wave. Together, these technologies will combine into their own Rogue Wave, toppling even the largest companies and making entire industries obsolete. And no one can predict exactly when that Rogue Wave will crash.
But you can prepare.
RECONVERGE:G2 will give you the practical tools you need to surf the wave, rather than being crushed by it.
Why should you attend RECONVERGE:G2?
Are you tired of conferences with the same talks from the same people? Are you avoiding travel to events because you cannot justify the return on investment? Do you struggle to find something – anything – from your latest conference that made a difference for your organization?
If that's you, you are not alone. Conferences have become repetitive and predictable. RECONVERGE:G2 is unlike any of those experiences. Limited to no more than 125 people, you will have three days to participate in immersive skill-building and planning exercises with colleagues and peers from multiple industries. Instead of a smattering of takeaways, you will leave with an action plan ready to implement when you arrive back at work.
You don't want to miss this. RECONVERGE:G2 is a uniquely immersive experience.
P&L Leaders, General Managers, and Product Managers
When you are accountable to business results, you do not have the time to listen to "interesting" facts – even about hot technology trends. Any insights need to generate real value – for your business unit specifically – in the near term. RECONVERGE:G2 will train you on the latest insight gathering techniques that you can put to work immediately in your organization. This isn't a "sit and listen" conference. Come prepared to dig in.
Technology Entrepreneurs
The Rogue Wave Convergence™ is coming – how do you know which disruptive technologies will combine in which novel way that will give you the opportunity for a 10X return? At RECONVERGE:G2, you won't just learn about technology, you will actively plan for multiple possible futures. Armed with that insight, you can quickly pivot to outflank competition in the market and achieve geometric growth.
Intelligence & Research Professionals
In an era where so much depends on securing the right intelligence to help make the right decision at the right time, many intelligence professionals are frustrated that their findings fall on deaf ears. RECONVERGE:G2 will help you discover why that happens. You will dive into the mix, participating in simulation exercises with your intelligence consumers to learn what drives their decision making process and how to connect what you can produce with their needs.
Top Three Takeaways
Participate in a full-day competitive simulation – a unique experience – included in the price of admission.
Actively participate in the intelligence gathering process and generate immediately actionable insights to drive topline and bottom line performance for YOUR business unit.
Learn directly from topflight colleagues in multiple disciplines in an immersive, intimate setting.
Top Three Takeaways
Learn low-cost and no-cost methods to gather intelligence about your offering or customers.
Discover how to tell when your competitors are missing an opportunity.
Network with other entrepreneurs and business leaders.
Top Three Takeaways
Learn what you customers (internal or external) really want in your work product.
Build your toolbox of interactive intelligence exercises.
Connect with peers in your field to share experiences and tactics that work.
Still on the fence?
Aurora WDC Founder & Chairman Arik Johnson makes the case that you cannot miss RECONVERGE:G2 this year. Read Arik's blog posts detailing the mission of the overall conference as well as day-by-day themes:
RECONVERGE:G2 2018 Agenda Details
Remember, this isn't a lecture conference. Expect to arrive for each session ready to get to work. We'll make time for you to catch up on emails and phone calls, but during the exercises, you'll need to bring your A game. Are you ready?
Theme of the Day: Making Business Leaders Teachable
7:30 - 8:30 // Breakfast and Co-Chair Opening Remarks
8:30 - 10:00 // Failure, the Best Teacher
Dan Brewer is the second-generation head of Intangible Assets at Brewer Science, a microelectronics materials technology innovator that has maintained its independence as a private company for more than 37 years. Independence – at Brewer Science's size and scale – is such a rarity in modern business life that we asked Dan to tell us how they do it. As he will explain, it has not been painless. When Brewer Science tried to grow beyond its original core business, the company struggled, ultimately failing to get traction … four times. The company needed an attitude adjustment. Only when Brewer Science learned how to couple rigorous situational awareness of market opportunities with operational excellence could they exploit the new market growth potential that had earlier eluded them. More than tell the Brewer Science story, Dan will guide us through their process of evaluating opportunities and aligning operations to exploit them – a lesson that will resonate with any organization hoping to expand beyond their core.
10:00 - 10:30 // Networking Break
Your tasks during the break to be announced soon!
10:30 - 11:00 // 2018 Jim Mathews Award Winners
We are excited to announce this year's Jim Mathews Award winners: Micah Uveges and Holly Schnader.
Micah Uveges is a part-time graduate student at the Georgetown University in Applied Intelligence with a 4.0 GPA and an officer in the U.S. Air Force. He holds an undergraduate degree from Liberty University in International Affairs with a specialization in Strategic Intelligence.
Before beginning my university studies, I did not know exactly what I wanted to be, but I did know that I wanted to make a difference, be part of something bigger than myself, and help others. As an undergraduate student, those passions aligned perfectly with an International Affairs degree that specialized in Strategic Intelligence. That passion was soon rewarded, and before I knew it, I was graduating Summa Cum Laude with a 3.86 GPA. Ever since I began diving into my degree, my long-term goal has always been to work in the intelligence community, but before I could do that I owed a debt to my country. Once finishing college, I commissioned into the United States Air Force and have been working in Air Force Special Operations Command for the last 4.5 years, gaining an intimate knowledge of how military operations are driven by intelligence. Additionally, I have continued my passion for intelligence by applying to a highly competitive Applied Intelligence graduate program at the University of Georgetown, earning a 4.0 GPA in the first semester.
Holly Schnader is a Senior Intelligence Analysis Major at James Madison University with a 3.778 GPA and four (!) minors including: Military Science, Computer Information Systems, and Honors Interdisciplinary Studies.
I grew up on a farm in Lancaster County, Pennsylvania. It seemed like everyone around me was mostly interested in futures tied to agriculture. However, I wanted something different, I was just unsure as to what that 'different' thing would be. A friend encouraged me at the end of my junior year of high school to purse an Army ROTC scholarship. I would be able to work towards something very different than anything I know, as well as the fact that money was extremely tight at home and I would be paying for college entirely on my own. At this point I hadn't had a chance to look into school's very much because I didn't think I would be able to afford it, so I spoke with several people about my interests and a few suggested I attend James Madison University. I put my ROTC packet in with JMU listed as my number one option. After getting into JMU, I attended an event about different majors on campus, where a representative from the Intelligence Analysis major spoke to us. From that moment I knew that it was exactly what I wanted to do! I was intrigued by the combination of research, critical thinking, inventive ideas, and being able to work on a multitude of projects that use similar methodologies, but are on a different topic. Since them, I have excelled in my classes, obtained an internship at Northrop Grumman, and am on track to commission as an Army officer in either the intelligence branch or cyber branch.
We couldn't be more proud of our winners this year, as well as all our applicants. Please join us in congratulating Micah and Holly on their impressive accomplishment!
11:00 - 12:00 // Imagining the Perfect Race
It is more work than you might expect to be even slightly better than the competitor next to you. But tiny margins of error (or effort) make all the difference between winning and losing on the athletic field – or in the business world. IBM Watson's Doug Barton is the type of person who races IRONMAN for fun. Doug will tell us the story of the "Internet of Dave" (Haase) and how his team exploited effort and biometric data, behavioral analytics, and weather conditions, to keep their racer safe and help him race his perfect race. Their objective: to outperform competitors in the Race Across America or RAAM, a 3,000-mile coast-to-coast non-stop cycling ultramarathon often described as the toughest race on earth. Dave, Doug and their team amplified athletic performance by answering two key questions: what can we do now – this moment – to maximize the likelihood of a safe crossing — and how can we create our own luck by knowing precisely when to rest to make progress in the best conditions. Learn how we cascaded that into data, insight, optimization, and better decisions. Doug will show us what opportunities might exist in our own businesses by looking at familiar problems and everyday data and combining them in new ways to generate supranatural competitive advantage.
12:00 - 1:00 (Working Lunch) // Advancing AI Wisconsin Roundtable: Think Globally, Disrupt Locally
Too often, words such as "disruption" and "innovation" fail to connect with our everyday professional lives and experiences. That cannot happen if we expect to survive the coming "Rogue Wave" of disruptive digital trends. Immediately following his remarks, Doug Barton will introduce and moderate a panel of regional leaders, executives and innovators from Wisconsin. Their mission is simple: How do we apply those lessons, today, in our own back yard? Although this panel is focused on applications in Wisconsin, the lessons apply everywhere.
Panelists:
Joe Poeschl – The Commons
Oliver Buechse – MyStrategySource
Luis Murgas – Wipfli / SpiderLogic
Sandra Bradley – Hyper Innovation
Topics:
Strategy as an act of invention of something valuable under uncertainty and constraints. Posture, opportunity, and preparedness. (Oliver)
Innovation (tech) as the enabler of new ways of working and new ways of creating value. (Luis)
Entrepreneurship as the tooling to accelerate learning in applying innovation to what's valuable. It's a social science not just tech and engineering. (Joe)
Workforce and human creativity as an infinitely renewable resources with limitless potential … but one that needs to be set into motion as changing habits are hard. (Sandra)
1:00 - 2:30 // Hacking the Feedback Loop
2:30 - 3:00 // Networking Break
Your tasks during the break to be announced soon!
3:00 - 4:30 // Hard Truths: Transforming Business by Facing and Embracing Reality
Every day, critical conversations are taking place that shape the future of our organizations. Will we make progress in achieving our mission, drive success for our customers and employees, and deliver profits for our shareholders? Or will we remain trapped in the patterns of our past, fail to see and influence the realities of today and tomorrow, and become yesterday's news? Nuance intelligence leader Carolyn Galvin and industry veteran Mike Diaz will discuss how naming and addressing sacred cows and aligning stakeholders around a single version of the truth can help spark more open, honest and productive conversations. Raising the bar for crucial conversations in our organizations is a unique opportunity to improve the influence and credibility of market and competitive intelligence teams while driving organizational agility and impact through faster, higher-quality decisions.
4:30 - 6:00 // Happy Hour & Dinner, Fluno Center
Specific location and menu options available soon.
6:00 - 8:00 // Entrepreneur's Intelligence Hackathon
Do wish you had the market research, competitor intelligence and audience insights that the big players in your market enjoy? While you might be quicker to pivot in the face of new information than your big competitors, what could you do if you had their intelligence resources? RECONVERGE:G2 is your opportunity to level the playing field. This is a once-in-a-career opportunity to receive personalized coaching and techniques from leading intelligence practitioners for your new venture.
Wednesday, April 25, 2018
Theme of the Day: Awakening Cultures of Humility
Courage is the prerequisite to coping with the simple fact that, we don't actually know as much as we think we know. Creating a safe environment where that confession is not only acknowledged, but valued is the most important organizational imperative of those institutions that will survive the coming "Rogue Wave".
Read Arik Johnson's blog post discussing Wednesday's theme and activities.
7:30 - 8:30 // Breakfast and Co-Chair Opening Remarks
8:30 - 10:00 // Fear Not
What would it mean to you to overcome your fears? The fear of failure? The fear of success? The fear of uncertainty? As humans, we were not born with those fears, we learn them. Ask any child what she wants to be she grows up and she will aim for the stars (quite literally, sometimes, hoping to become an astronaut)! Ask an adult, and he simply hopes to make it through the day. What happened? As we grow older and experience life's disappointments, judgments and challenges, we lose our childlike sense of wonder. We fall into the trap of limited expectations, are taught to beware of strangers and learn to scorn the unfamiliar. The challenge is that while fear serves a biological purpose (avoiding danger), it can be difficult to distinguish that from its damaging psychological impacts. In other words, we are scared of the wrong things. And that fear is poisoning our relationships, our careers and our organizations. How can we surrender our more basic fears of appearing weak or feeling vulnerable and, instead, embrace the surprises life promises with greater confidence? Jeff and Amy Meyer, founders of Sardis Collective, will teach us in their opening keynote how to overcome these fears, dream big and execute in service to those around us.
10:00 - 10:30 // Networking Break
Your tasks during the break to be announced soon!
10:30 - 12:00 // Intelligent Humility
Intelligence professionals by definition are expected to be some of the smartest people in the room.  Their credibility and expertise should be the very reason they're called upon for advice.  However, these very strengths can also limit their effectiveness to the organization they serve – and limit their career success, whether in private industry or government employ. The balancing act an intelligence leader or analyst must model for their colleagues is intelligent, professional humility.  This humility manifests itself many ways but can be tested by answering a simple question, "When delivering my analysis, am I remaining open to challenging opinions and even open criticism to my process and conclusions?"  If not, you have unintentionally degraded your effectiveness.  By opening yourself to broader thinking and opposing ideas, you will be able to surrender tightly held – and often flawed – assumptions in your process and product. Andrew Chernack and Jim Payne of Deloitte will guide us through real life examples they've encountered in the professional services industry where they have justifiably been challenged on their conclusions.  And they will challenge us to test our own intelligent humility and teach us to elevate our clients, our careers and produce results that drive the competitiveness of the organizations we serve.
12:00 - 1:00 (Working Lunch) // Cresting the Rogue Wave
On the open ocean, nothing terrifies ocean liner captains or oil platform managers more than a "Rogue Wave". Smaller ocean waves compound each other and merge to produce a single, exceptionally monstrous wave – sometimes a hundred feet tall. Its impact is devastating and sudden, striking with little warning. The same thing is happening today with technology's impact on our societies and economies. Dozens of new technologies are riding their own small waves of adoption, each one seeming quite predictable and understandable. These individual ripples, however, will collect themselves into a Rogue Wave of sweeping industry change that will disrupt companies, careers, industries and governments. But what if this Rogue Wave was predictable? What if you were among those few people who saw it coming and understood its potential? What if your organization could surf this wave of tech trends instead of being consumed by it? This very concept may sound unreasonable, yet unreasonable leadership changes the world. Arik Johnson will introduce you to the Angles of Attack hypothesis, a new approach to predicting the future with one completely unreasonable goal: You will never be surprised again.
1:00 - 2:30 // The Creation Interface
Would you call yourself "creative"? Is your organization "innovative"? Whatever qualifiers you might add to your specific answers to these questions, the real answer stings a little: we're not nearly creative enough. No matter how creative or innovative you believe you or your team is, it will not be enough to sustain your organization in the coming technological and cultural disruption. Rob Shook and Bill Kirst will guide us through the process of accepting that truth and beginning on the path toward addressing it. Bill focuses on the individual leadership training and skill development required, while Rob explores the macro cultural view throughout the organization. Both perspectives are critical to creating lasting change. Together, they will show us how you can harness the individual and collective efforts of your entire organization to push through the creative frontier.
2:30 - 4:00 // Cultures of Conduct: Doing it "Right"
Strengthening Your Competitive Advantage
If your organization needs a "Code of Conduct", you don't have a compliance problem, you have a cultural problem. Great organizational cultures do not need to be told to do the right thing; they do what's right, by default, all the time. But how rare is this corporate unicorn and how many times have we seen precisely the opposite: Cultures in which the written code says "no" but the incentives and behaviors of the culture say "yes". Some organizations feel that preparing for and defending against existential disruption means that they will need to do "whatever it takes" at "whatever the cost". The explosion of social media and advanced information technologies has made it easier for many companies to do things that are "perhaps unethical but not illegal" while great cultures embrace these disruptions to enhance their competitiveness with innovative best practices.
Tim Stone and Joe Goldberg, both veteran intelligence leaders who have assisted many Fortune 500 companies over their careers, will show us how those organizations that cut corners on perfecting a culture of conduct will discover that their approach is neither sustainable nor productive. In fact, fostering a culture in which unethical conduct is considered not only bad behavior, but also damaging to the bottom line, is the only reliable way to prepare your organization for the future confronting it.
4:00 - 5:30 // Designing for Customer Empathy
Design thinking is a common buzzword in industry today. But what is it? And how do you use it? This session will help you understand design thinking through an experiential learning exercise based on the health industry. Today,  "health" care is actually "sick" care. For the past 50 years in the United States, the overriding economic incentive has been to treat illness, not keep people healthy. And while the medical system has delivered countless innovations over the past century to treat evolving conditions, it has not delivered on the promise of lifelong wellness. How could we better design a system that supports ongoing health? Kathy Henrich, a technology sales and partnership executive, and Kim Rosengren, a healthcare marketing expert, will facilitate a design thinking exercise to tackle the big challenge of improving health and creating a better future for us all.  The goal will be to help you practice the fundamentals of design thinking so that you can use it to approach your next "big challenge."
5:30 - 7:00 // Happy Hour & Dinner, Fluno Center
Specific location and menu options available soon.
7:00 - 9:00 // Networking Exercise
Theme of the Day: Simulating Digital Disruption 2020
Now that we are able to learn and accept our need for help, we are ready to plan. Our immersive simulation exercise will stretch participants capacity for curiosity and appetite for uncertainty exploring the impacts and indicators of Digital Disruption on anyone involved with three domains: Transactions, Transportation and Training.
Read Arik Johnson's blog post discussing Thursday's theme and activities.
8:00 - 4:00 // Wargame Competitive Simulation
Whether you've got the courage to confront it, or not, your business is being disrupted… right now, on your watch. Disruption is happening to you today and you are unprepared for it. And you won't have time to hand it off to the next person who warms your seat.
But there is hope.
If you want to be among the select few who are growing to anticipate and embrace the approaching Rogue Wave of digital disruptors, then welcome to Thursday at RECONVERGE:G2 2018. We've designed a mind-bending full-day competitive simulation to teach you how to survive and thrive from the myriad disruptive technology trends reinventing your business.
Business wargaming is a team-focused exercise designed to test your assumptions and strategies in a realistic, simulated market environment. The best wargames make it impossible for players to distinguish between real market events and the imaginary events we create to simulate the actions and reactions of your customers, competitors and other stakeholders to your business decisions. You see the potential results of your decisions before you make them in real life and can then adjust virtually to account for unintended consequences and other mistakes inevitable when trying to anticipate the future.
In summary: this is the closest thing available to a crystal ball.
But how can a wargame factor in all of the market forces actually surrounding your business?
We have recruited an online community network to serve as your intelligence support staff during the wargame and their mission is to advise you and your teammates on how to cope with those complex market forces. They're hard at work now scanning your competitive environment and, by April, they will have spent several months building a database of actual technologies, industry players and their strategies for the wargame teams to play out.
Thursday morning, April 26, you will be offered one last chance to review the pre-read background material and strategy processes for the simulation's three narrative scenarios: TRAINING; TRANSACTIONS; and TRANSPORTATION. Starting at 8:30 AM, you will be divided into 12 pre-selected industry-competitor teams – four teams for each of the three scenarios, from banking to food/beverage to education – and then be forced to cope with impacts of tech trends such as Blockchain, IoT, Robotics, AI, VR/AR (plus a few surprises). In addition to the 12 in-person teams, online collaborators will have the chance to play along, supporting those players in the room with real-time, real-world intelligence analysis.
| | | |
| --- | --- | --- |
| Training | Transportation | Transactions |
| Team 1 | Team 2 | Team 3 |
| Team 4 | Team 5 | Team 6 |
| Team 7 | Team 8 | Team 9 |
| Team 10 | Team 11 | Team 12 |
And that's just round one…
After a review and evaluation of concise go-to-market presentations, you and your teammates will move on to "Round 2" which expands your scenario into 2019. Expect more surprises as high-probability, high-impact events unfold and competing teams vie for advantage. You will need to stay on your toes or be caught off guard by a competing team's innovative ideas. After another round of evals (and a working lunch) you conclude your day with final strategic decisions and presentations covering the most speculative "Round 3" time horizon: 2020. This is your final chance to fine-tune the design and execution of your team's winning strategy before you present your final results. Our expert facilitators will make the final evaluations and select one winning team for each scenario narrative.
At the end of the day, winning or losing amounts to bragging rights. Your more important victory comes by engaging fully in the wargaming process to count yourself among those rare few with the courage to confront their fear and overcome it. If you're concerned with how technology trends will impact your industry's strategies in these scenario areas, then you owe it to yourself and your career to be a part of the first event of its kind anywhere in the world…and learn firsthand everything you might've been missing in planning your business future for the next few years.
Don't Wait! Register for RECONVERGE:G2 today!
*Not sure if you can make it in person, but still want to attend? Choose the "Streaming Online" option. If you decide to arrive in person, we will credit your admission to the in-person fee – or transfer it to a colleague. Your choice.
Advancing AI Wisconsin
Advancing AI Wisconsin is a grassroots initiative to increase awareness of a set of technologies often referred to as "Digital Disruption Technologies" and their impact on Wisconsin businesses, workforce needs, educational programming, and the State overall.
Learn more at advancingaiwisconsin.com
gener8tor
gener8tor is a nationally ranked accelerator that invests in high-growth startups. Three times a year we invest up to $140K in each of five startups who receive a concierge experience during our 12-week accelerator program. gener8tor supports the growth of these startups through our network of experienced mentors, technologists, corporate partners, angel investors and venture capitalists.
Learn more at www.gener8tor.com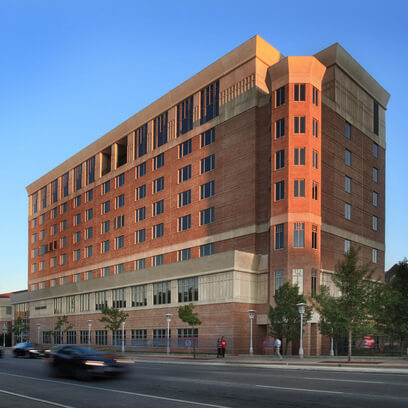 Our Venue at the Heart of the Innovation Economy:
Fluno Center
At the intersection of superior service and exceptional events you'll find the Fluno Center. Located on the UW-Madison campus and in the heart of the bustling downtown and cultural center of Madison, WI, the Fluno Center is a full-service event destination and conference center with well-appointed guest rooms. With our variety of meeting rooms, event spaces, and guest rooms, we offer a total-immersion learning environment for individuals, professional groups, and corporate teams.
Learn more about the Fluno Center and the nationally-ranked UW-Madison.