2018 Accommodations
The hotels currently on this page are already available for RECONVERGE:G2 2018 on April 24-26, 2018. New hotels will be added here as arrangements are confirmed.
The Fluno Center Hotel
Limited availability – contact hotel for reservations. $179 per night
Call 608.441.7117 or email reservations@fluno.com and mention that you are booking for the RECONVERGE event
Th Fluno Center is a full-service conference & event center located on the UW campus in beautiful downtown Madison, WI as well as the site of RECONVERGE:G2.
Conference site.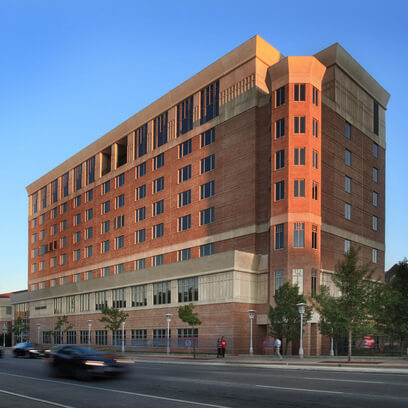 DoubleTree by Hilton Hotel
Preferred Hotel Partner
525 West Johnson Street
Madison, Wisconsin 53703 USA
Tel: +1-608-251-5511
Fax: +1-608-251-4824
Special RECONVERGE rate of $209 per night
The rate includes complimentary parking, and free airport and surrounding area shuttle.
(0.2 mile walk to Fluno Center)
Hyatt Place
333 W Washington Avenue
Madison, Wisconsin, USA, 53703
Limited space. Contact the hotel directly for availability.
The guest room rate includes a complimentary full hot breakfast, Wi-Fi and complimentary shuttle service to/from the airport and within two miles of the hotel.
Visit Hyatt Place Downtown Madison or call 608.257.2700.
(0.5 mile walk to Fluno Center)
The Graduate Hotel – Madison
601 Langdon St
Madison, WI 53703
Limited availability for the reserved rate of $219 per night.
Boutique hotel with a uniquely-Madison vibe. Visit the hotel website or call (608) 257-4391 for more information. Make sure to mention you are booking for the RECONVERGE event.
(0.2 mile walk to Fluno Center)